Home

>

Ultratec Superprint 4425 TTY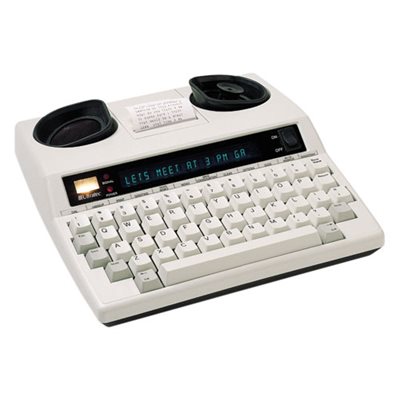 Ultratec Superprint 4425 TTY
Product Code: UTI-SP4425
Put the power of advanced technology at your fingertips with the deluxe Superprint 4425. This feature-packed TTY includes sophisticated capabilities, giving you more choices than ever! It features direct connect with two built-in telephone jacks and advanced calling features like auto-busy redial, three way calling, and TTY transfer. Call progress tells you if the phone you are calling is ringing or busy. Auto-Answer takes messages for you when you are unavailable.
Built-in, 24-character printer

(3) Selectable print sizes

32k memory

Date/time printed at the beginning of each call

Turbo Code and Auto IDTM

E-Turbo for simplified relay calling**

Built-in ring flasher

Arrow keys for easy review of memory

Convenient GA/SK keys

Easy-touch greeting memo

TTY AnnouncerTM tells hearing callers you are using a TTY

Baudot code (45.5/50 baud rate)

Sticky key feature (for single-handed typing)

Version with ASCII code is available (item# UTI-SP4425-ASCII)
** Works with E-Turbo compatible Relay Services.


NOTE:

Special order item will incur additional lead time
(1) Ultratec Superprint 4425 TTY